Fall is here, and most of us have already filled our homes with autumn hues, warm fuzzy throw blankets, and pumpkin-spice scented candles. And don't worry, if you haven't done so it's not too late to get started. Keep in mind, it's also important to make your outdoor space just as inviting as your indoor space. Here are a few ideas that will make decorating your front porch simple this season.  
Scroll on for a few of our favorites. 
Classic Mums & Pumpkins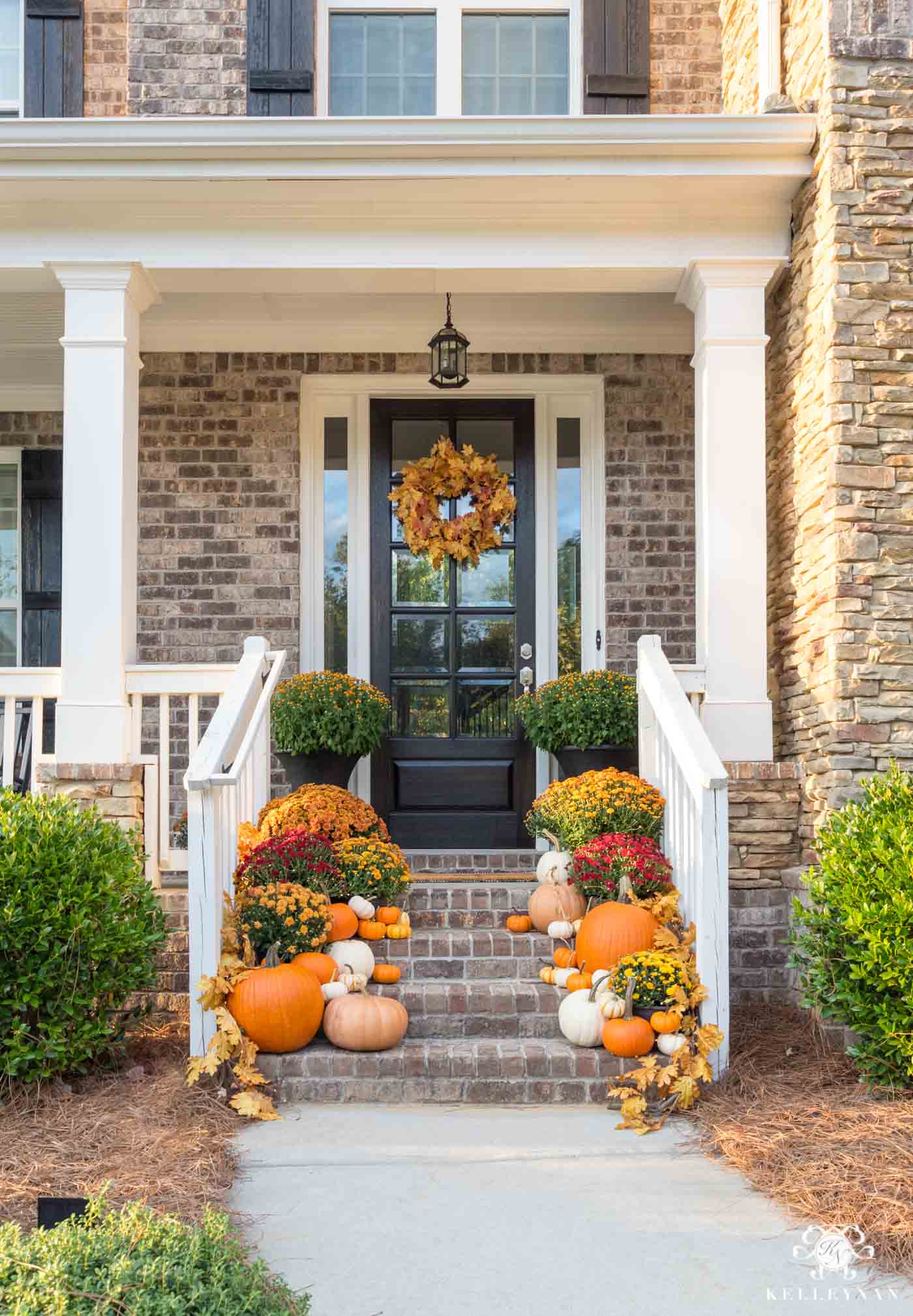 Our go-to's this season are the classic mums and pumpkins. So, we hope your annual pumpkin picking trip with your family brought you gorgeous pumpkins to decorate your porch with. If not, just run to your local farmer's market to pick yours out. This mum/pumpkin combo instantly adds color and makes this front porch warm and inviting.
A Little Halloween Flair
With Halloween right around the corner, you should add a little spook to your porch. We love the look of balancing a classic fall porch with some Halloween flair. If you're into this look, we recommend styling your porch with the traditional fall staples and then incorporating your Halloween decor. Cute and quirky one-liner doormats are in this year. The best part about this is you can easily remove the Halloween pieces and glide right into Thanksgiving.
Twinkle lights & Pumpkins
String lights are hot this season! Imagine taking an evening stroll and seeing this Autumn glow porch on your street. You can take the traditional decor up a notch by adding twinkle lights as the cherry on top!
Talk about curb appeal?! All your neighbors will be eyeing up the glow from your front porch.
Cozy Layers
Bring on the cozy by layering a throw blanket or a cute throw pillow to your favorite porch chair surrounded by pumpkins and mums. You'll definitely be utilizing your outdoor space on those chilly fall evenings!
Change it up with Black & White
Black + white keeps things modern and bold. Paint your pumpkins white, add a black buffalo plaid checkered doormat, and call it a day — so simple! This color palette is timeless, so you can reuse your decor for the spring too! 
Now that you have some inspiration, go decorate your porch! And don't forget to leave the porch light on for the trick or treaters!