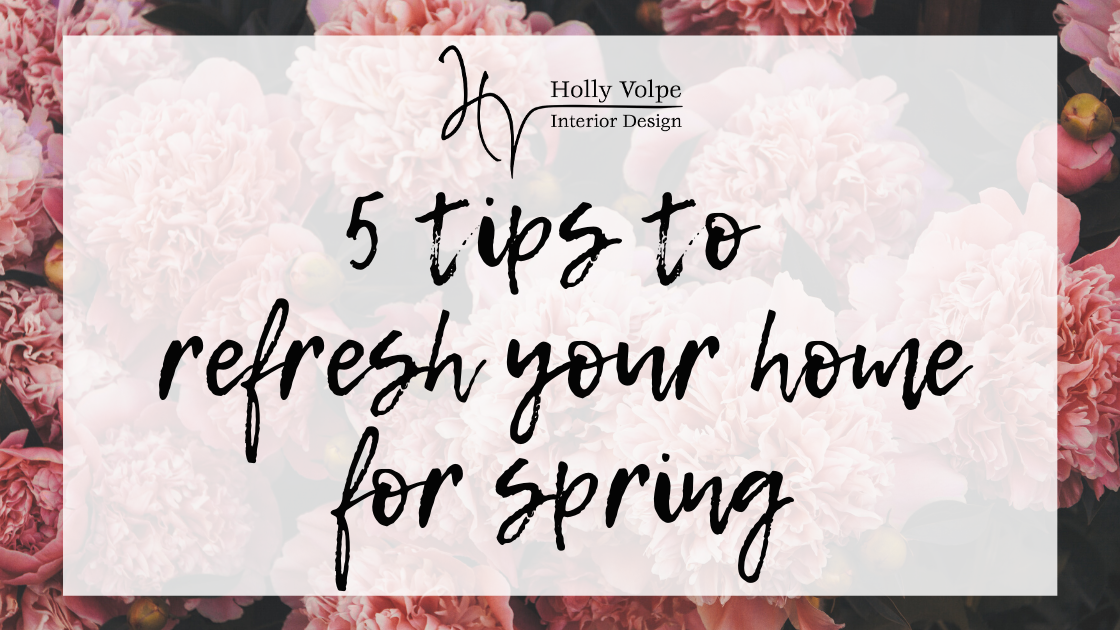 Spring is here – we made it! If you are anything like me, the last few weeks of Winter are spent counting down until the season changes. Long, warm days means extra sunlight and lots of opportunity for renewal. Given light of the current situation, there is no better time to make changes to your home to improve your everyday life than now. 
The changes don't need to be drastic! Just small, simple things that you can do to refresh your home and heighten your mood throughout your space. Try these 5 simple steps that will give your home the Spring refresh it deserves!
1. Welcome visitors with an inviting front entrance
Nothing is more welcoming than an inviting front door – the statement you make on the outside of your home is just as important as the inside. Opt for soothing blues and grays like Magnolia Farms Sir Drake, Sherwin Williams Dorian Gray or Behr's Blueprint S470-5. Feeling a little adventurous? Try soft pastel colors like mint or yellow, to brighten up your space.
After all, your door is the first thing your guests see upon entry!
Why not go one step further and accessorize the front door? Add a patterned doormat layered underneath your regular doormat.  Add a wreath incorporating Spring flowers & fruits or Easter accents. And don't forget the greenery!
2. Pots + Planters
Take advantage of all the beautiful new Spring blooms and florals that arrive this season! Use pots and vases from local artisans to make things especially unique. If you can't swing by the farmers market or a craft fair, try your local thrift shop. Otherwise Home Depot, Target or Lowes will do the trick! 
Try hanging plants in a woven basket in the bathroom as well as your back deck, and add small plants to your coffee or side table for an added touch of elegance. Into experimenting? Use clear apothecary vases and incorporate fruit into your arrangement. Don't have a green thumb or are worried about your plants not getting enough sunlight? Mix in artificial plants in spots that may not be the most welcoming for your new green family members.
3. Bring the Inside Out
As the weather warms up, it's time to move your living area outside. Update your back deck with a simple refresh of small elements that will make it feel like new. It's as easy as updating your cushions or adding a new weather resistant rug. Add lanterns throughout your yard or candles to side tables, and hang string lights across the space to give the area a bright feel. Try rearranging your outdoor furniture to see if another layout sparks more conversation. And of course – add planters and pots with seasonal blooms and greenery. On a budget? It's as easy as spray painting the planters you already have around the house to give your outdoor living space a new look! 
Just a few things here and there will make you feel good about the space – a little goes a long way.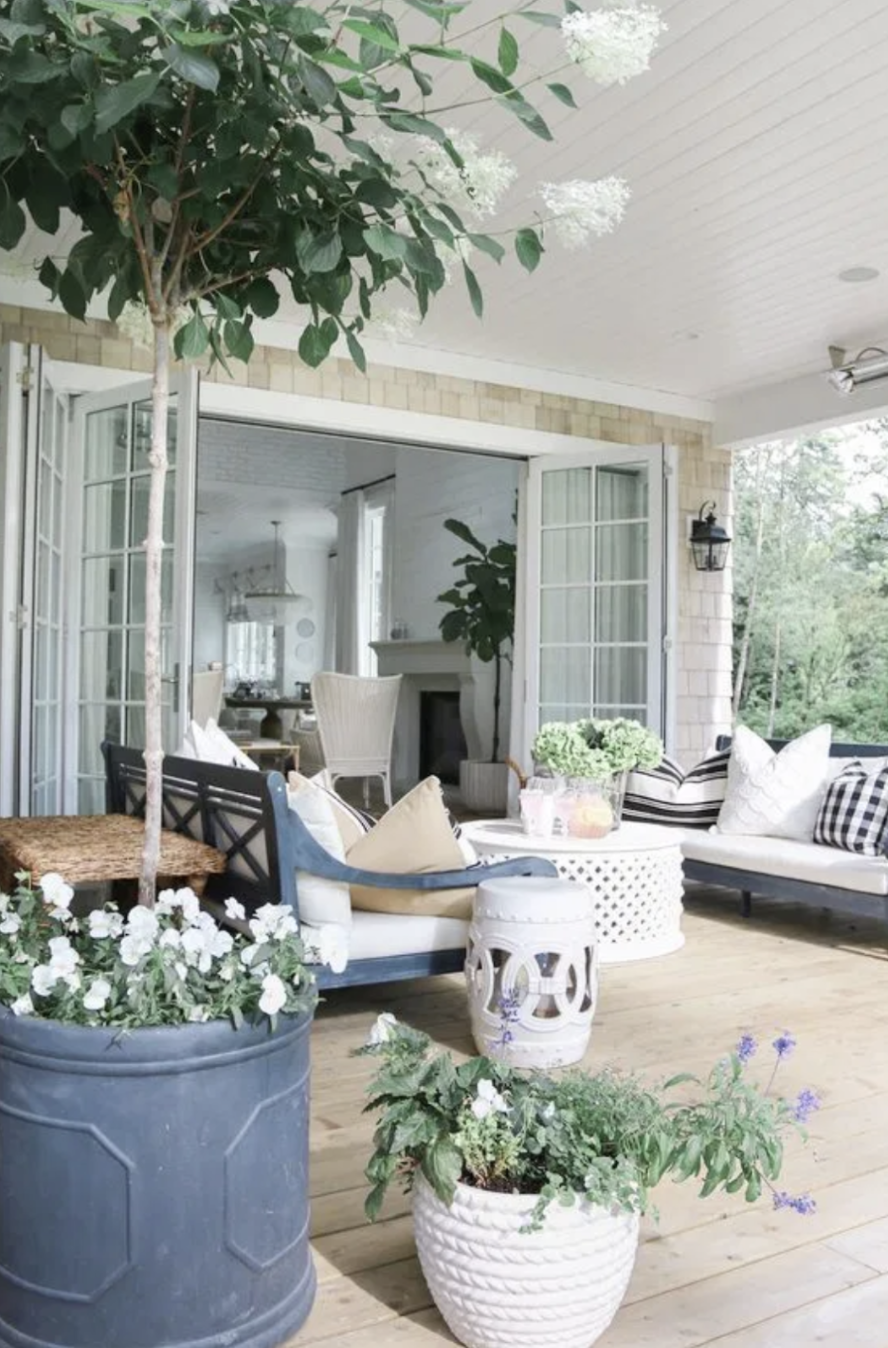 For a more traditional look, patterns of blue + white and neutral tones work well for Spring. Image via Boho Style File.
4. Spring Clean Your Closets
Feel better about yourself and your personal space by cleaning out closets that have long been forgotten or are well overdue for some love. I like to start with my bedroom closet- even when working from home (like we are doing during this quarantine), there is nothing like getting up, getting dressed and feeling organized to get you motivated for the day ahead. Let your functional closet be your starting point for the day. Remember – you still have to get up and show up – and an efficient closet is going to help you have a more organized day. 
My first thought when cleaning my closet is that less is more – clean out, throw out, and put heavier garments meant for winter months in storage or move them to a less accessible space as the season changes. Use baskets for stray pieces like scarves or hats to help keep them in one place. 
Take an inventory – what are you missing? What do you need? What haven't you worn the last few seasons? Get rid of the things that don't appeal to you or don't fit or are over worn or you need to replace. Once you are finished cleaning, your inventory can help you to understand your needs and help you to become a more savvy shopper in the future. And who knows – while you're cleaning you might even come across a treasure that you forgot you even had!
5. Use Extra Rooms Wisely
Ok – I know we are all guilty of this! Do you have rooms in your house that have become the designated "dumping space" for clutter and things that don't have a home?  If you've created a dumping ground for your excess belongings, now's the time to go through it. Create a space that is functional to you so that it serves a purpose in your life.  Turn it into a home office, or maybe use it as overflow for your closet. It can be anything – a storage room (just be sure to keep it organized!), a room for meditation, a reading nook, a craft room – an escape, just for you.