Creativity is like glitter – it's everywhere and impossible to contain. When us designers catch inspiration and start sprinkling our sparkle, we need a way to lock that inspiration down, so our glitter doesn't just end up scattered everywhere. That's where mood boards come in. Think of them as the blueprint for turning ideas into beautiful reality. If you're more of a cook than a crafter, think of them as the secret recipe that takes your brainstorms and turns them into a dazzling dish, perfectly plated.
 That's why I'm so excited to introduce our "Shop the Look" mood boards. These collections that I've carefully curated, offer an easily shoppable selection of design possibilities that will quickly elevate your space to new heights.
The Inspiration Behind Our Mood Boards
Behind every exceptional design lies a wellspring of inspiration. And I get ideas everywhere —my wellspring is honestly more of a geyser. I take that inspo and handpick each product from our online shop, ensuring that every piece seamlessly blends colors, textures, and styles, and hopefully inspiring you to envision the perfect harmony for your home.
 My mood boards capture the essence of the latest design trends through my unique lens of timeless aesthetics. From the rustic charm of farmhouse decor to the sleek sophistication of modern minimalism, each board tells a unique design story.
Discover Your Style
I believe that every home should reflect its owner's unique personality, style and story. So please explore my mood boards with that in mind. When you find the one that resonates with your design sensibilities, feel free to mix and match products to create a truly personalized space that tells your story. These mood boards aren't paint-by-numbers kits, they are jumping off points!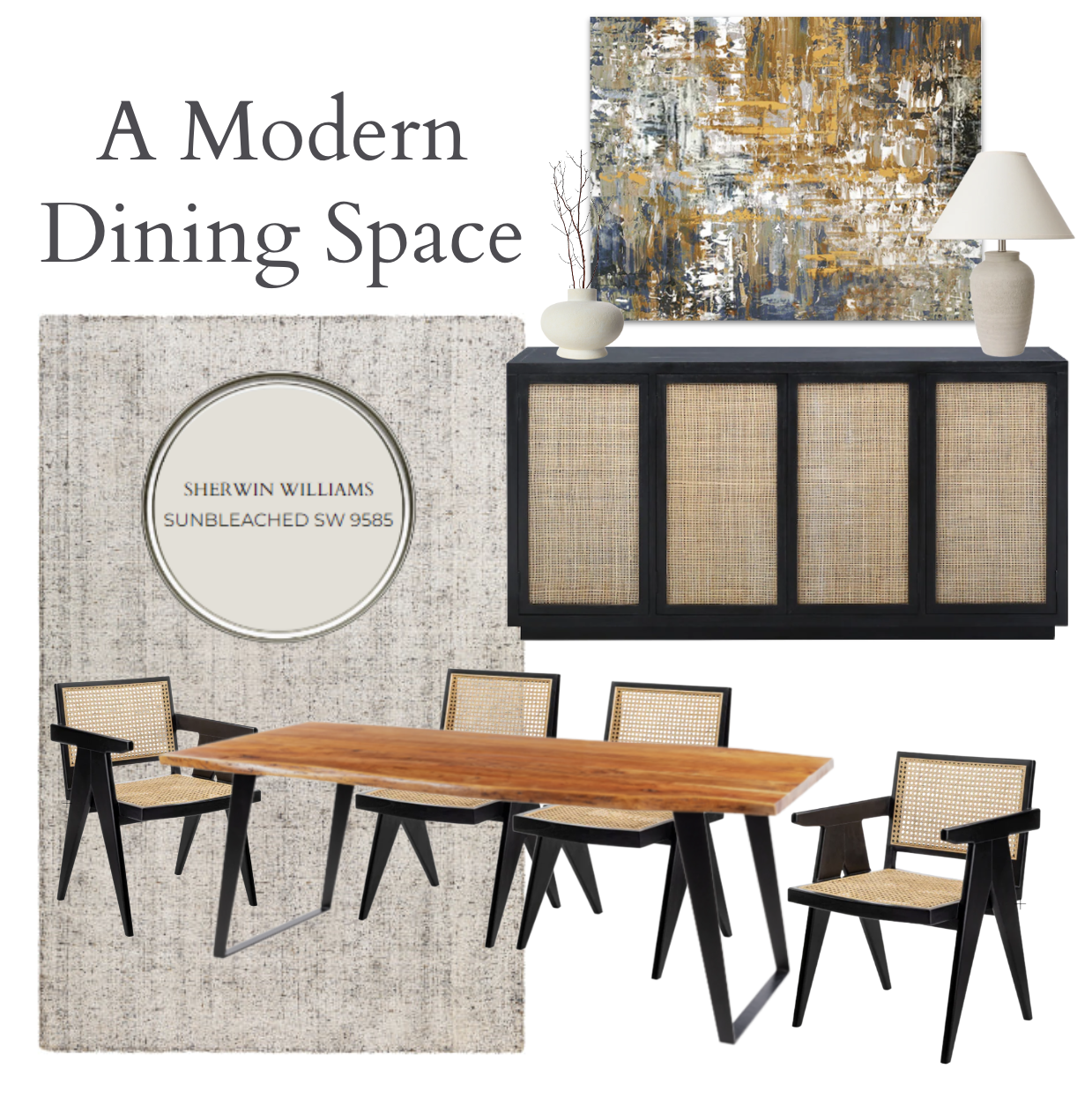 A Modern Dining Space
 Waltz into our modern dining wonderland, where sophistication dances with style, and every nook exudes a contemporary spin. From chic artwork to plush seating, each piece is carefully curated to craft an inviting yet visually mesmerizing ambiance. The Acanceh Vase showcases minimalist allure, while the Caspian Wall Art adds intrigue to the backdrop. Our Hague Armchairs and Sidechairs offer lavish comfort, effortlessly blending with the star of the show – the Halden Dining Table.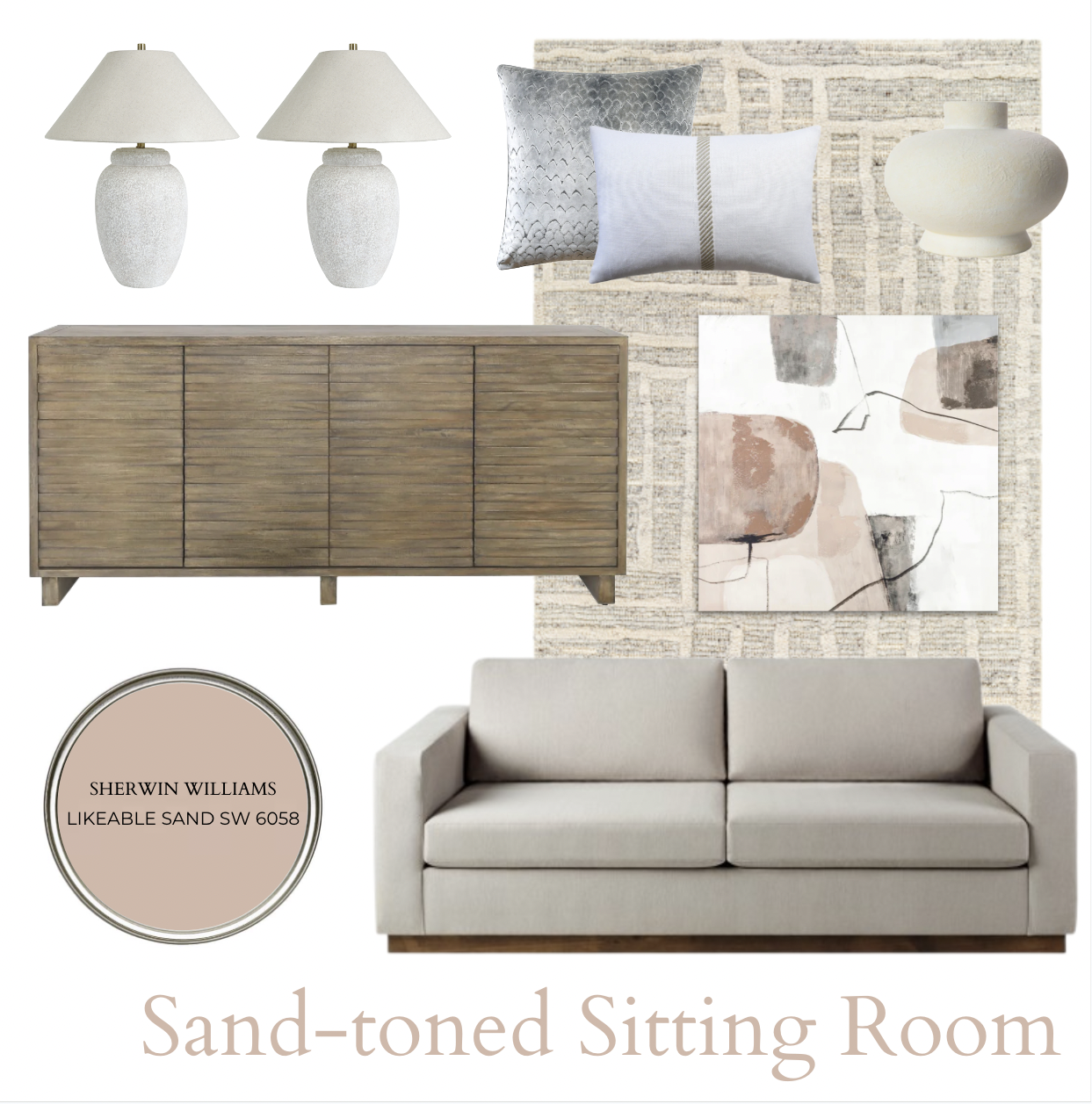 Sand Toned Sitting Room
Take a seat in our oh-so-chic sitting room, where sandy vibes and off-white wonders create an atmosphere that's as cozy as it is chic. Picture yourself lounging on Surya's Amherst Sofa, soft white and as inviting as a summer breeze. And the For Arts Sake Pillow in "Moon" features a shimmery velvet pattern that evokes both the earth and the sky. Dive into a realm where tranquility and style collide, creating a haven that echoes the calming essence of coastal retreats. 

Neutral Blues
Step into our serene living space, where neutral blues create an oasis of calm and refined grace. The Abbey Rug is a testament to enduring craftsmanship that stands the test of time, offering low pile comfort that is poised to grace homes for generations. The Chambery Bouclé Sofa is a statement of sophistication covered in sumptuously soft textured material that cradles you in a cocoon of warmth. Each corner of the space, bathed in a color palette of creams, greys, olives and of course blues, is both welcoming and luxe.
So, whether you're looking for a complete design ready-to-go, or just that one piece, let these mood boards be your guiding star. It's not just about what you see – it's about the stories they inspire, the dreams they kindle, and the spaces they breathe life into. We're so excited to have you on this design journey with us!