A light & bright living room makeover in Freehold, NJ
Kitchens may be the heart of a home, but living rooms are as equally important! In my own home, we casually eat meals here some nights, hang out on Sundays and watch movies and often lounge with guests and chat over drinks. They get as much as a work out as a kitchen but sometimes functionality and design can go overlooked in these parts.
One such example was our project in Freehold – the clients were looking to give their humble living room a new breath of life. Over the years, the space had taken the grunt of their family hang outs and was ready for a makeover.  The room had gorgeous, towering high ceilings but was in need of some light.
The room was large and with the current seating arrangement, a lot of space was underutilized. There was a stunning fireplace with beautiful detailing that – with a little bit of love and some furniture placement, it was soon to become the focal point of the room.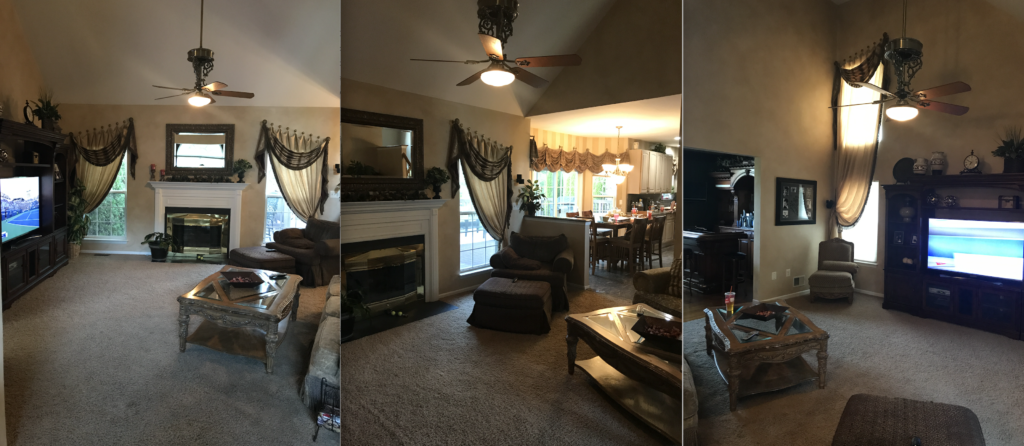 Space Plans
A large media unit was currently the focal point of the room. The piece – while gorgeous – was large and clunky and weighed the room down. So, it was time to say goodbye and change the focal point of the room to the beautiful fireplace.
A sectional sofa would help to create more seating and change the flow of the room, so that the underutilized space would now be used.
A console behind the couch would add a touch of storage and help to further divide the living room with the kitchen.


Furniture Selections & Color Palette
Going into this redesign, the client was after something that was neutral but also had a pop of color. They wanted the room to feel timeless – so I mixed in a hint of navy to the palette.We kept things simple with patterns, opting to tie in some pattern in the window treatments. But for the most part, all of the fabrics and designs were solid colors.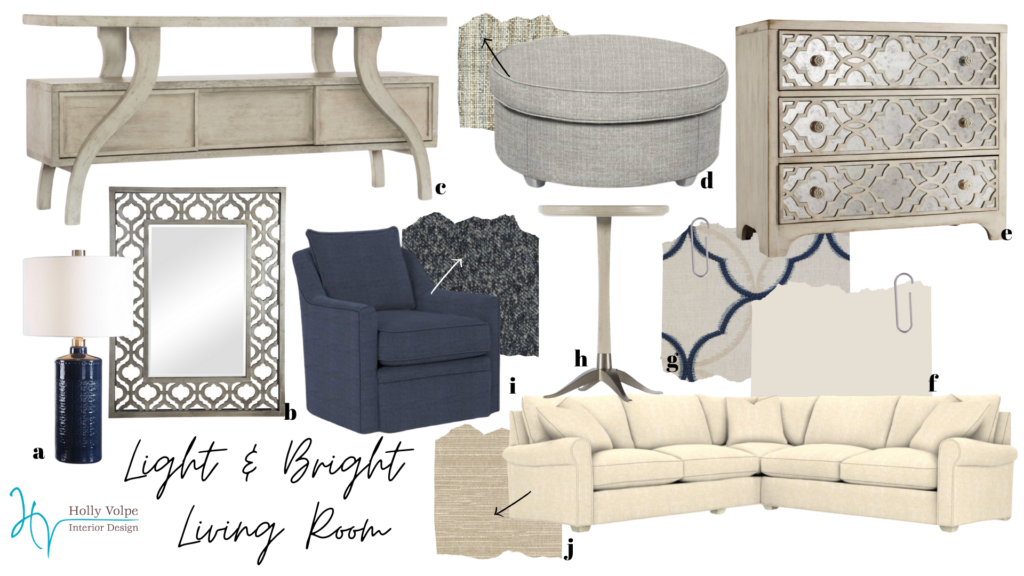 A. Uttermost Thalia Table Lamp
C. Hooker Refuge Accent Console Table
D. Rowe Eero Storage Ottoman in Fabric S-19137-28
E. Sanctuary Fretwork Bedroom Chest
F. Paint Color: Sherwin Williams Shoji White SW 7042
G. Window Treatment Panel: Fabric – Lafayette; Color: Kimo;  Pattern: Nordic
H. Hooker Reverie Martini Table
I. Rowe Hollins Swivel Chair –  Fabric: N16644-56
J. Rowe Aberdeen Sectional Sofa – fabric: Y13291-77
Window Treatments
I've always said that window treatments are like putting on jewelry – they finish an outfit. Or, in an interior sense – a room. No matter how well designed or finished a room, if it doesn't have window treatments I will notice it instantly when I walk in.
I wanted to ensure that the room got enough light, so opted for blinds that would allow for privacy if needed but still let in natural light. To dress them up, they were finished with a simple, light-weighted panel with a blue pattern from JF Fabrics to complete the look. And, we can't forget the fringe! I opted for a pom pom style navy blue fringe from Brimar. 
The finials and hardware were wooden rods in a light wash, to continue the aesthetic of the room.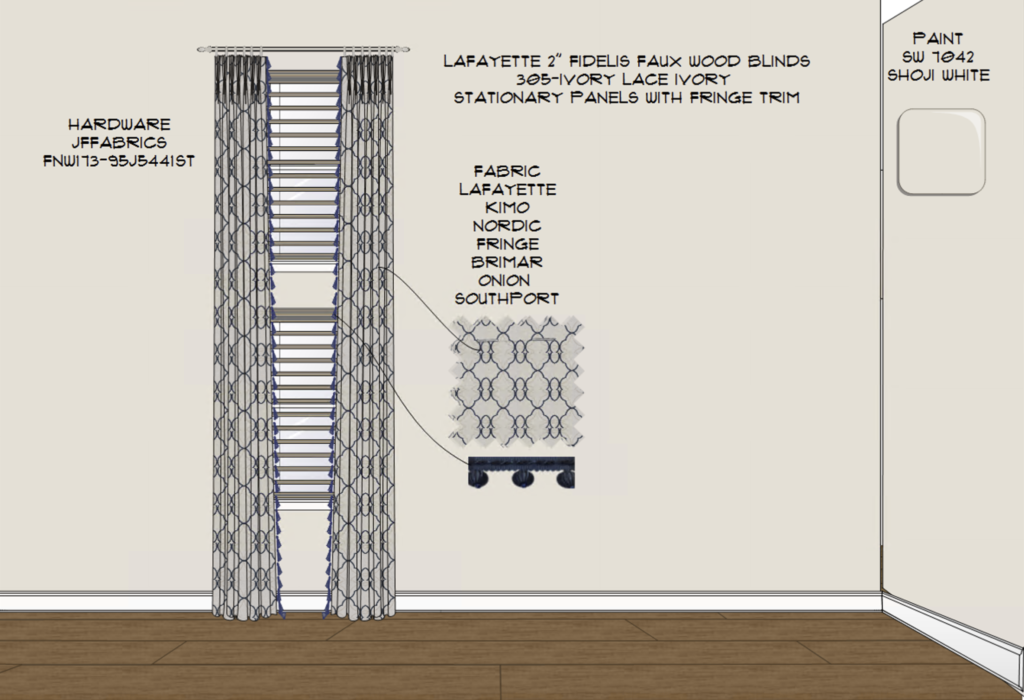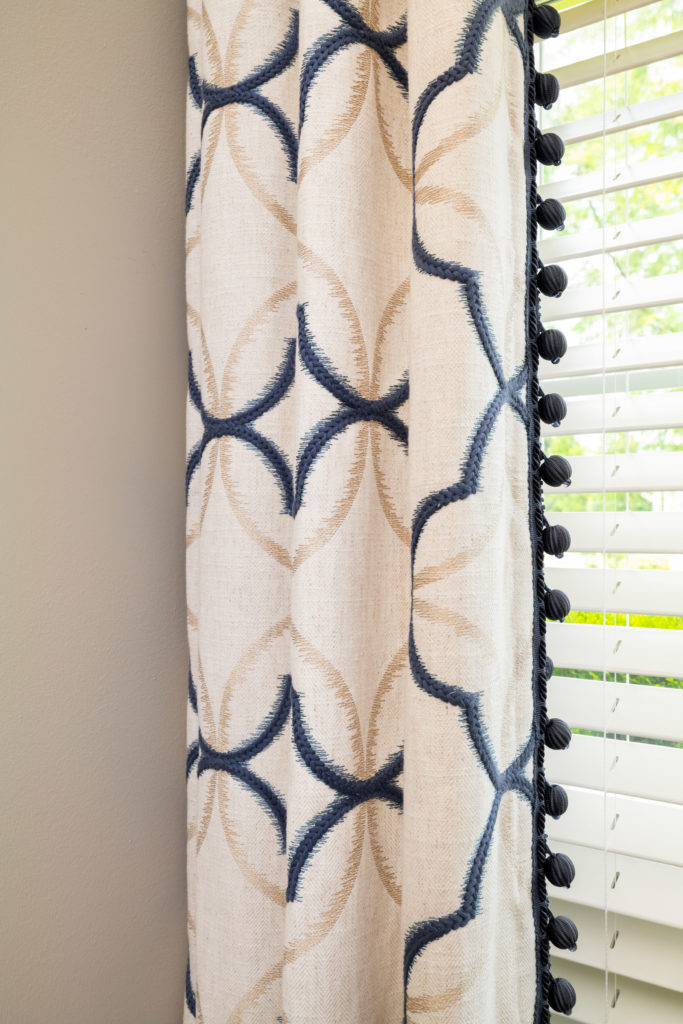 Fireplace
This was going to be the focal point of the room, so the makeover had to be fitting! I stuck to light, neutral colors with a modern touch.
Keeping the wood detailing on the exterior, I took out the old, gold face and updated it with a modern, silver face. I added a new stone feature in a neutral shade that gave the fireplace texture and tied in with the other aesthetics of the room.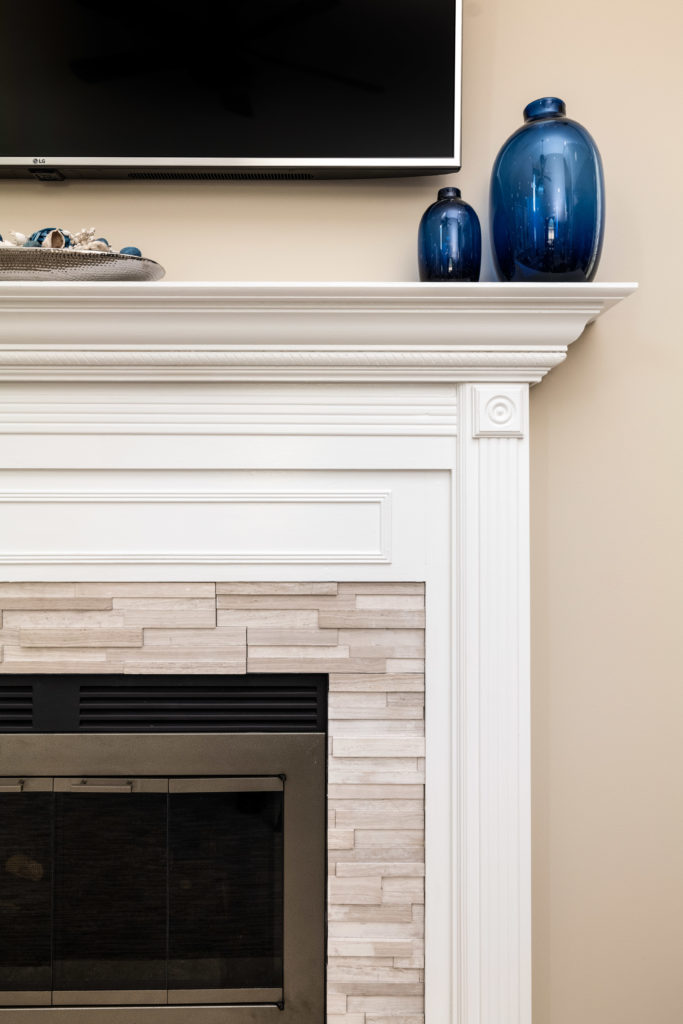 The Final Space
I am so happy with the final space – the room feels luxurious but informal, and is ready for many movie nights and family hang outs for years to come. Photos by Paul S Bartholomew.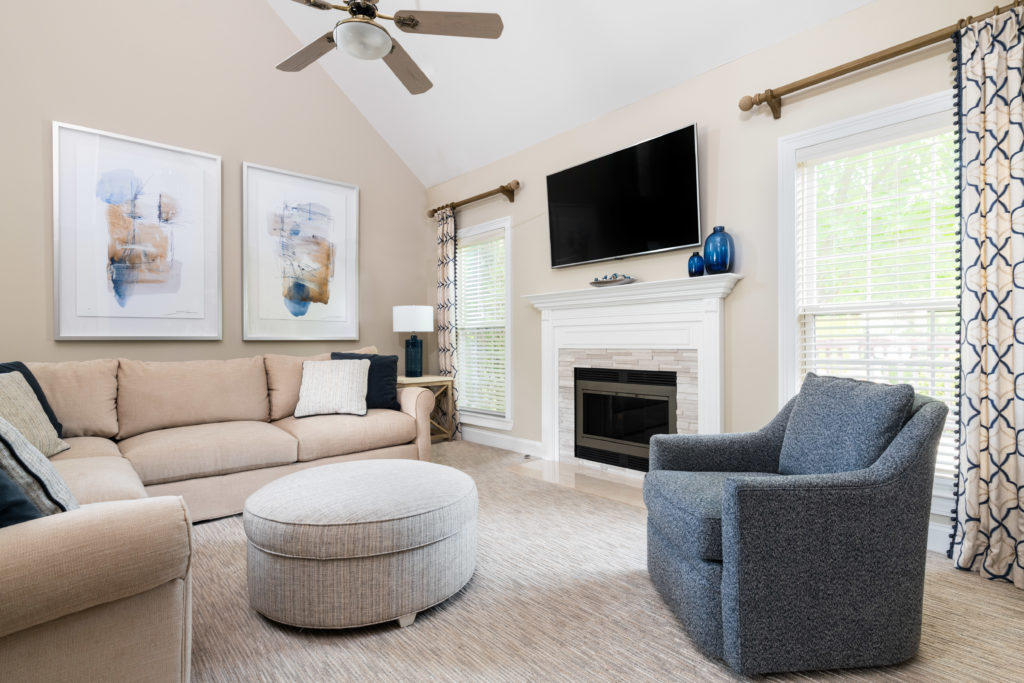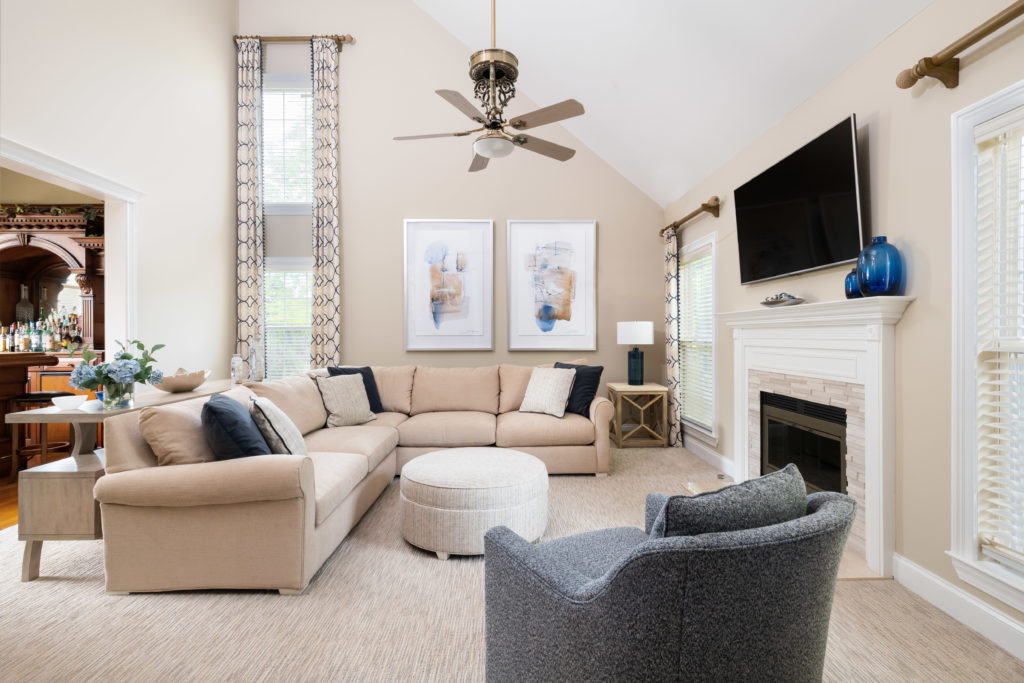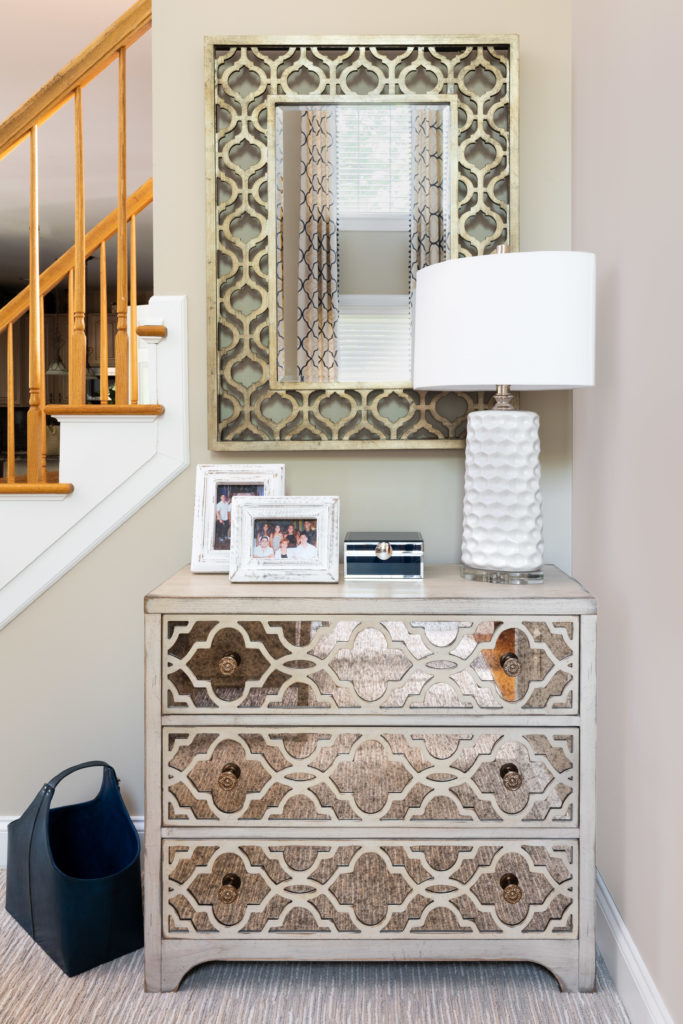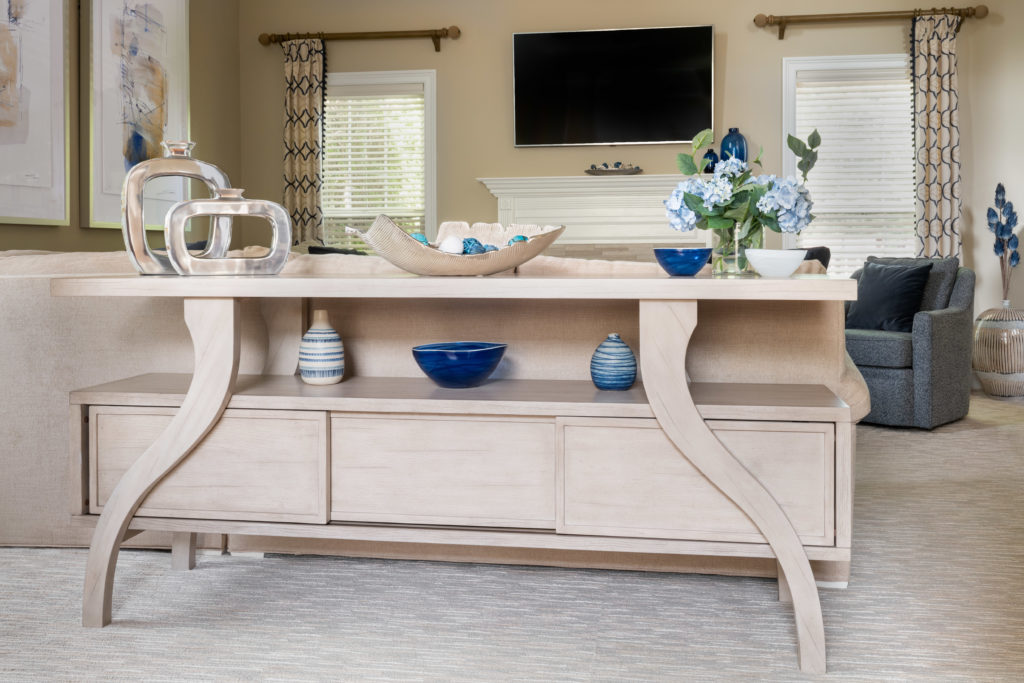 Photo credit: Paul S Bartholomew