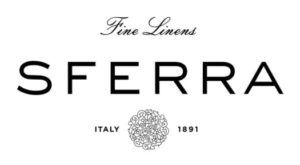 SFERRA has recently celebrated 125 years where they continue to focus on being at the forefront of craftsmanship and luxury in the world of fine linens with a quality you would need to feel to believe.
Synopsis of the last 125 Years
1891 – Sferra Bros. Imports established
1905 – Handmade Italian laces are produced and imported to U.S. from Italy factory
1910's – Venetian dresses, hand-embroidered linens, neckwear (lace collars and cuffs) and laces
1920's – Placemat sets with colored embroideries
1930's – Handmade lace, embroidered table linens, and cutwork embroidery
1940's-1950's – Ireland's double-damask table linens and classic pure linen bedding imported
1970's – Used long-staple cotton to make a smooth, sleek, and super-soft percale.
1982 – Expands handwork embroidery offerings to include the Portuguese Azores.
2001 – 1,020 thread count bed linens Milos and Millesimo launched
2002 – The Grande Hotel Collection of percale bed linens debuts
2006 – Introduces a down-alternative Duvet and Pillow collection
2008 – GIZA 45 selection of percale, sateen, and jacquard bed linens
2011 – Bello Towel and Maestro Bath Rug program rolls out with a palette of 24 colors
2011 – Down Duvet and Pillow Program launches
2015 – SFERRA acquires Brahms Mount, specializing in linen blankets and throws.
Their #1 Best Seller, the Celeste Collection, is 100% Egyptian Cotton Percale and available in 11 solid colors. Made in all top of bed.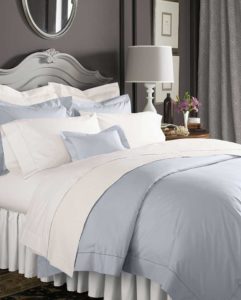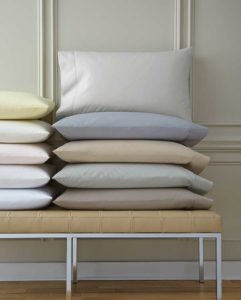 One of their finest, most luxurious is the Giza Collection which is made of extra-long-staple cotton from Egypt, available in Ivory and White. Made in all top of bed with various different styles.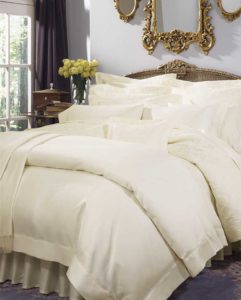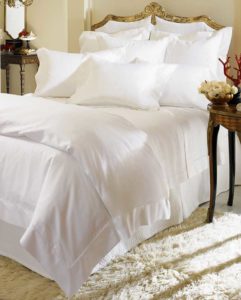 Sateen Percale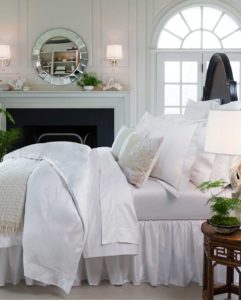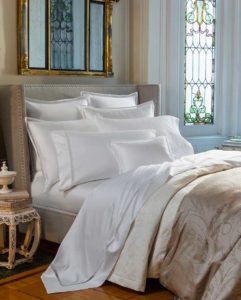 Medallion Trina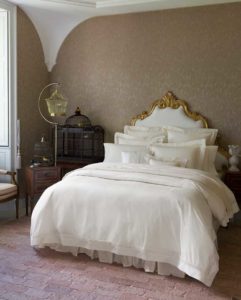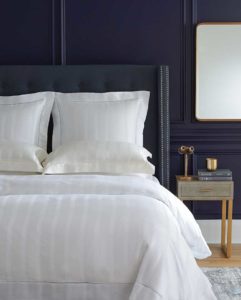 Lace Stripe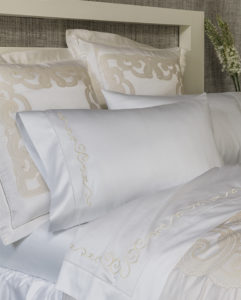 Jacquard Severina
Two of our co-ed favorites!
Finna is made with extra-long-staple cotton and is a piece-dyed Percale.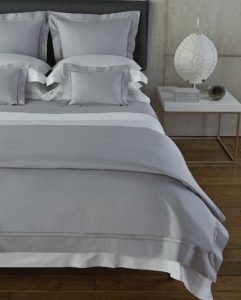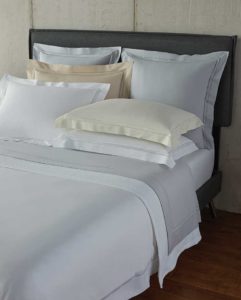 Available in colors Ivory, White, Barley, and Flint

The Isella pattern is a 100% Egyptian Cotton yarn dyed Sateen Jacquard.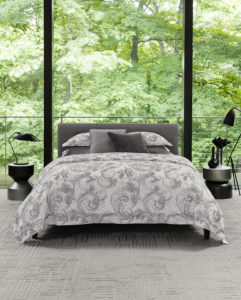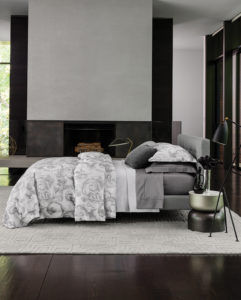 Available in color Storm

All shown are available in our showroom, in addition to all the samples of each collection they offer. On top of their bedding, SFERRA is also popularly known for their tablecloths, napkins, bath towels, bath mats, robes, decorative pillows, and throws.