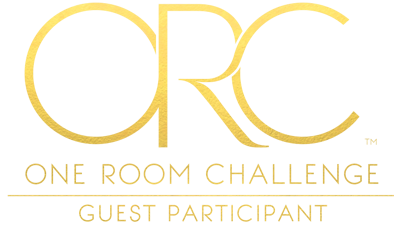 Dining Room Refresh – Week 1
One Room Challenge- let's go! I am so excited to be participating in this years challenge. Given the current quarantine restrictions, I have been finding myself re-focusing my creative vision on my own home the last few weeks. So, I thought what better room to choose than my own dining room. It's actually a space I have been wanting to re-design for some time.
We have been living in our home for 20 years and our dining room has been the backdrop for so many fond memories – I've shared lots of meals with my family in this room, had late night conversations with friends over lots of bottles of wine, and my three kids have spent endless hours cramming for exams here. It's a room that sees a lot of activity in our home and is ready for – not to mention deserves – a refresh!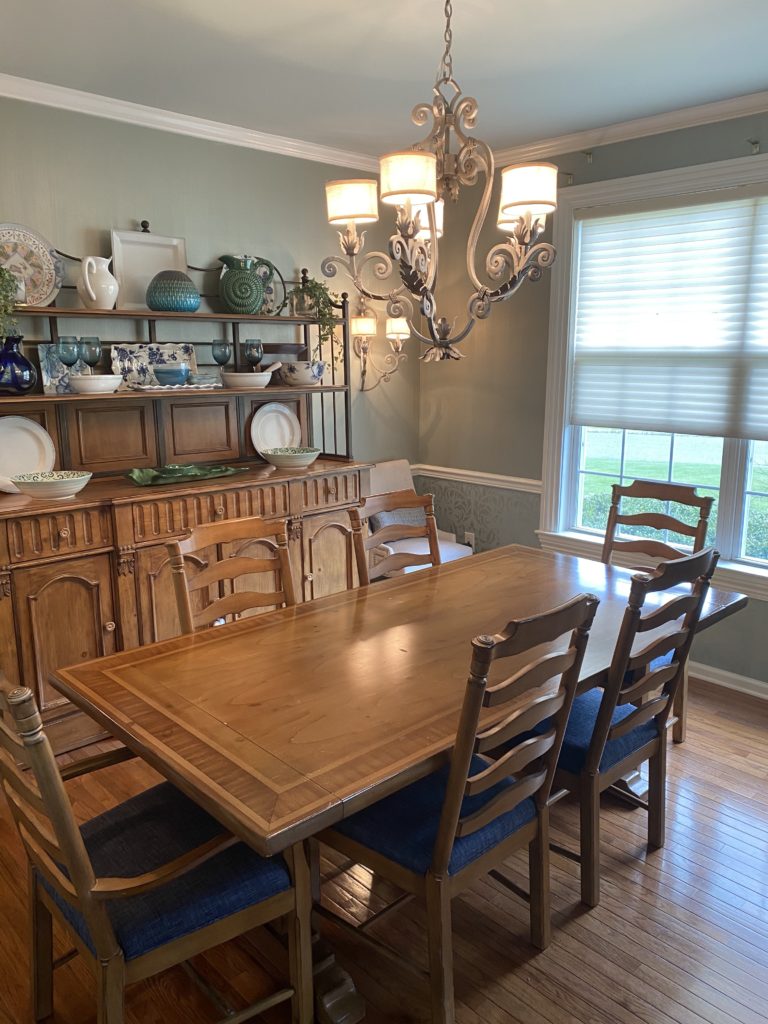 Design Concept
The current furniture and design for the room was done in 2000 and I attempted to start to redesign it a few years back, hence why there's no window treatments or real pizzaz in its current state.
The new design concept will be a fresh take on a Modern Farmhouse style with a little romance splashed in. I'll start the process by using my before pictures, measuring the space and then space planning the room so I can find just the right pieces to fill in the blanks. This saves a lot of time when you are sourcing product.  Once  I have the details for what accessories I will need and their sizes, I can focus on my color palette and inspiration ideas.
The Table & The Hutch
Like any designer, (or maybe it's just me!) I often end up getting attached to furniture and they eventually become a part of the family. Our table is one of those pieces – I can't possibly bear to part ways with her! So, she's staying. Plus, it's also the perfect tie in for the Modern Farmhouse vibe I will be leaning towards for the redesign. There are just so many beautiful details that I can't look past.
The hutch also stays! Like the dining room table, it's another staple in our home. While the hutch and table look like they are a pair, they're actually separate pieces and were purchased separately. The entire table top was custom stained to look as if it has wood grain and detailing around the perimeter, to match the hutch. It was actually just a solid piece of wood that didn't have any grain or character to it so it's very special to me.
While you don't really see it, the metal work on the base of the table has a rustic modern vibe to it and matches the metal detailing on the side of the hutch. Again – these are the details that I obsess over and just can't let go as a designer! Plus, it's these things that make the pieces the perfect addition for the redesign of the room.
I am so excited to get treatments fitted for the window! As you can see, my dog Josie is pretty jazzed about it as well. We actually still have the fixtures from the old treatments in the wall – you can spot them if you look up close! We took down the previous ones when I re-designed the room, and always planned to put new ones in but never got around to it unfortunately. But, today is a new day and finally they will be replaced!  The window treatments will be the main focus of pattern and color in the room, and will tie in with a new wallpaper and rug.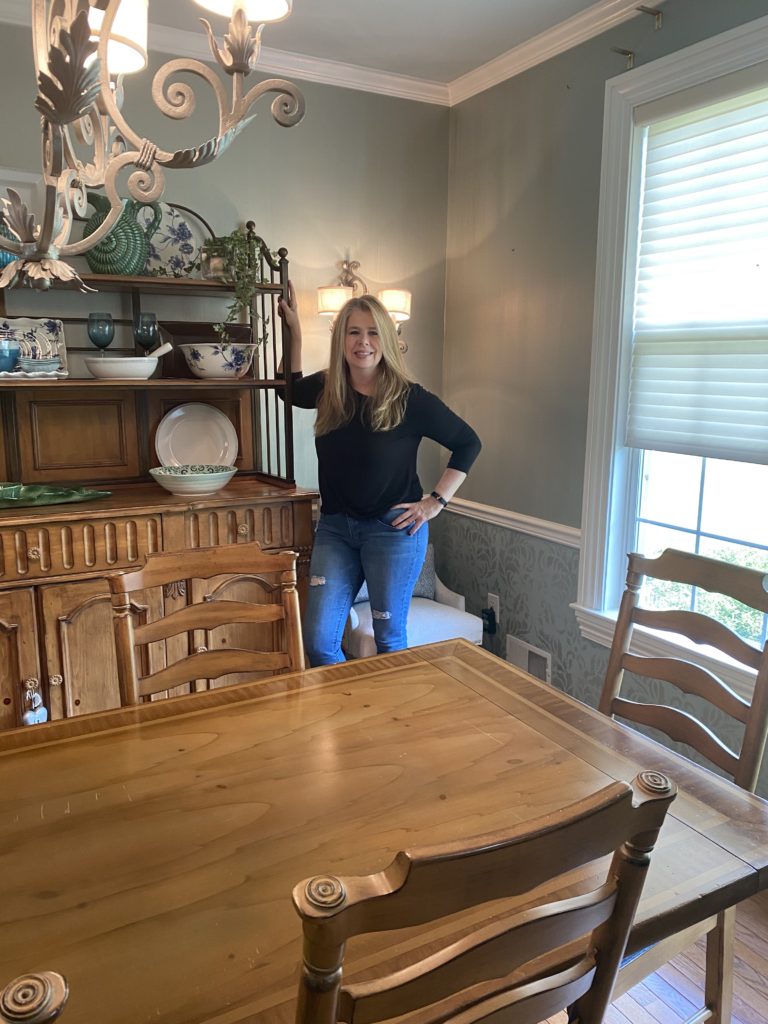 Overall, here are my goals and to do's for the challenge ahead:
Re-paint walls
Add new wallpaper
Add a rug under the table
Keep hutch and table
Redesign and install new window treatments
Add a new interesting piece of furniture
Change all lighting fixtures and sconces
Reupholster the seats
Add some accessories and artwork.
Next week I will be sharing my concept drawings, color palette and inspiration mood boards, so stay tuned! And be sure to check out the other participants for more design inspiration!