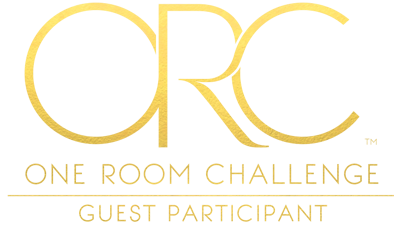 Spring One Room Challenge – Week 6
I can't believe we are in Week 6 of the One Room Challenge – time is absolutely flying by!
I initially thought that it was a slower week than usual for the fifth week of the challenge, but looking back and comparing it to Week 6, it was actually very productive. I installed the wallpaper and I've got to say – it looks beautiful! I couldn't be happier with the way it's turned out. I opted for a gorgeous Thibaut wallpaper in Pearl Carro that will bring out all the gorgeous subtle shades of the room.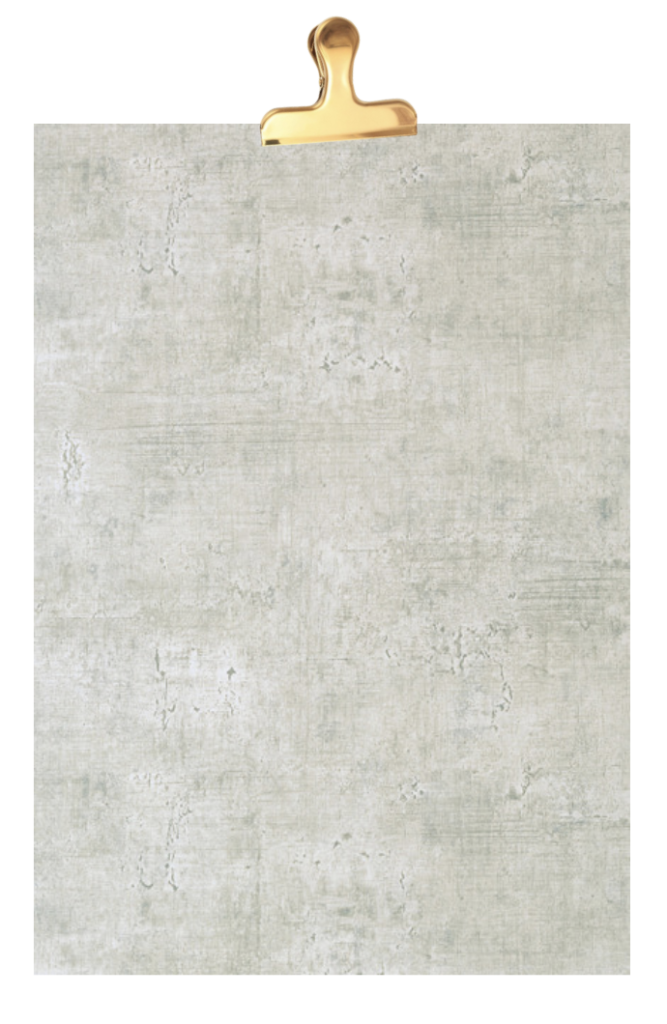 This is how it's shaping up so far with my beautiful vintage hutch – I updated the hardware and painted the details matte black to match the lighting:
I changed my mind on the central lighting fixture that I had originally picked. But, the new fixture and sconces arrived this week, so they've been installed!
Unfortunately, the two customized hostess chairs are now going to take longer than anticipated to arrive – fingers crossed they'll be here in time! But, in the meantime my dining chairs are out being re-upholstered. The seat on the vintage chairs were originally a bright blue which just did not match with the new aesthetic at all. I couldn't bear to part with them, so they're being given a little face lift with some delicious new fabric that compliments the room.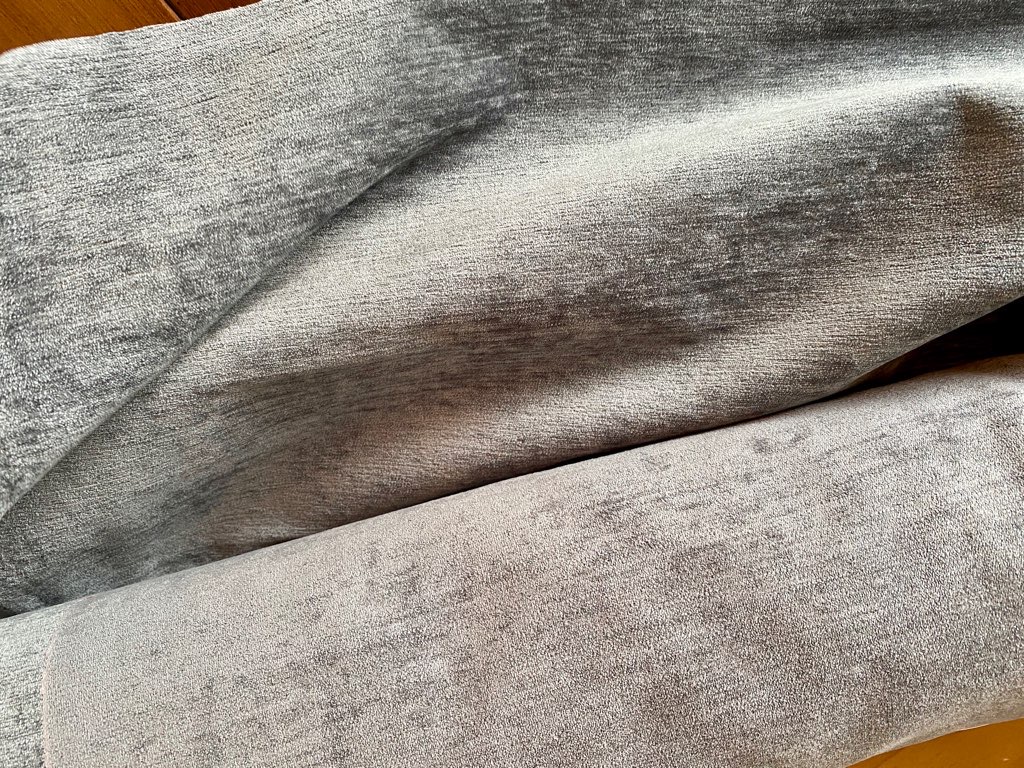 So now we find ourselves in Week 6 – and I will admit that this week has been less productive. But, that's not to say nothing was done, it's all a matter of the smaller pieces of the project coming into place. When I started, I made a list of what was going to be done with the room and here's what progress has been made so far:
Re-paint walls –

I actually only needed to repaint the shadow boxes, but I did need to prepare the walls for the wallpaper.

Add new wallpaper –

Done!

Add a rug under the table

– Ran into a few issues here (as I will explain below) but it arrived!

Keep hutch and table –

Obviously…! They were too good and unique to ever pass up. I also did some updating on the hutch and painted the metal detailing matte black (to match the lighting fixtures) as well as add gorgeous new hardware

Redesign and install new window treatments –

These have been designed and purchased, and the parts actually arrived this week! Just need to install them now…

Add a new interesting piece of furniture –

This has been ordered! I went with a side table that had matching hardware to the hutch. I am just waiting for it to arrive.

Change all lighting fixtures and sconces –

Done!

Reupholster the seats

-Happening as we speak! They are taking a little longer than anticipated to arrive, but hopefully should be here soon.

Add some accessories and artwork –

These have been selected and ordered! Just waiting for the room to start to come together before I decide how they are going to be displayed

Install shadowboxes – T

his was an element I decided I was going to add to do in Week 2 and I love how they came out!
So, looking at the list there's a lot that's been achieved and a few things in the works! I love a good list – makes me realize how far I've come! Here's an update on a few things that are yet to be done-  
Window Treatments
My window treatment pieces arrived this week and they look absolutely delicious – I love how they match perfectly with the rug and the fabric I selected for the cushions for my new hostess chairs. Plus, they look stunning against the wallpaper!  Everything blends so well. The hardware matches perfectly, too! The darker color gives it that modern aesthetic that matches the lighting fixtures and details on the hutch.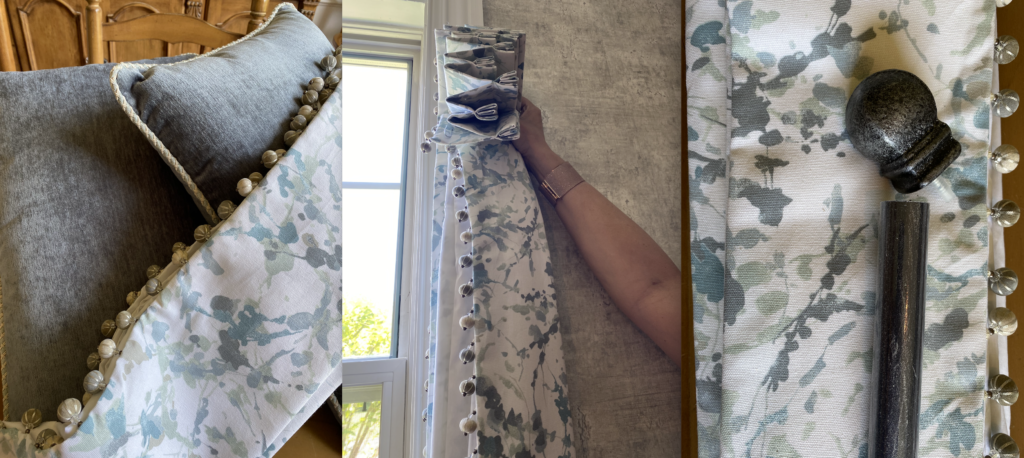 Accessories
Accessories are a big part of a room – they can be often overlooked and left to the last minute, but I really think that they help finish a space. I purchased a handful of mirrors for the mirror gallery wall as well as two gorgeous mirrors that will flank the window. Those two mirrors arrived this week, and while they fit the space wonderfully, there is a lot more "bronze" on them than I anticipated. So, I'll be painting them to match with the rest of the black elements of the room.
A few other pieces for the hutch have started trickling in as well – like these gorgeous little dessert pieces. They have natural wood with the addition of glass and just a little bit of chrome to modernize the look.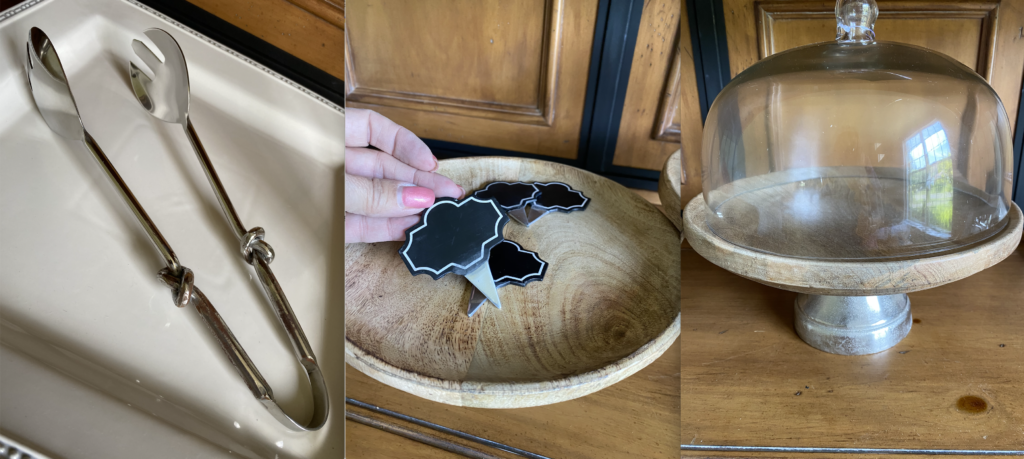 I still have to decide where all my accessories actually go on my hutch and, as well as hang my mirror gallery wall! 
Rug
Where do I begin? So, I absolutely fell in love with this rug from Bassett Furniture which I purchased very early on in the challenge.  It really shaped the color palette for the entire room.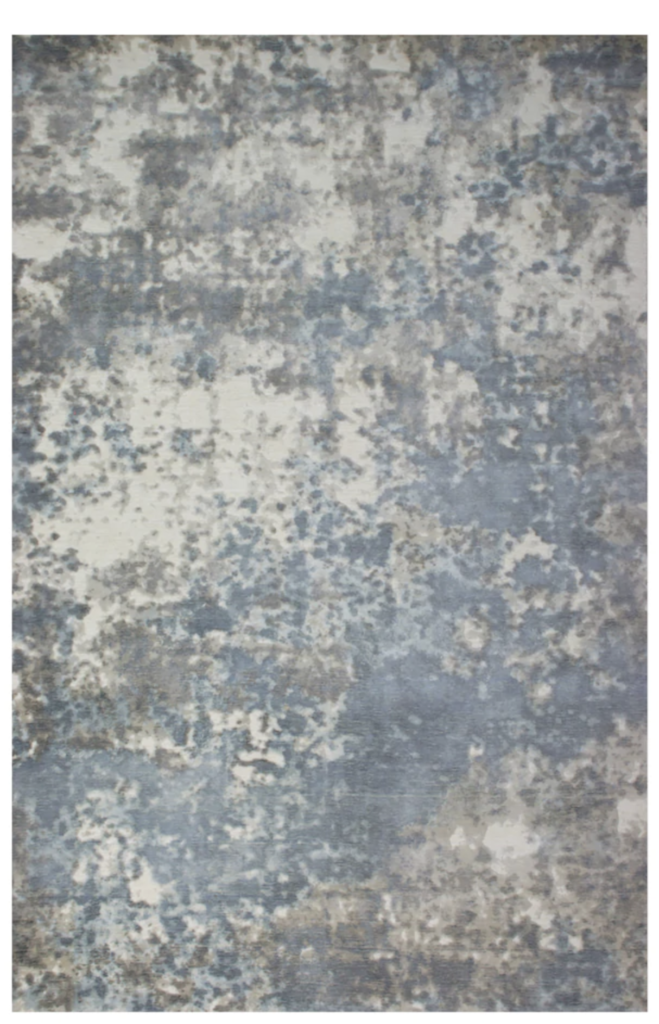 Things started getting a little touch and go when I found out that the rug went on back order, and I realized that it wasn't going to arrive in time. So, I ordered 3 more rugs… yes – 3 more! Let me explain… They didn't have any samples I could take to check and see if they matched the other fabrics, so I just had to pray to the design gods that one of them was going to be a perfect fit… The first one was no good – and thank goodness – Number 2 made the cut! It's spot on in terms of palette, and even has a little bit of sparkle in it and just matches everything perfectly. Number 3 is still on it's way, but I am too in love with Number 2. Just look at how perfect it is: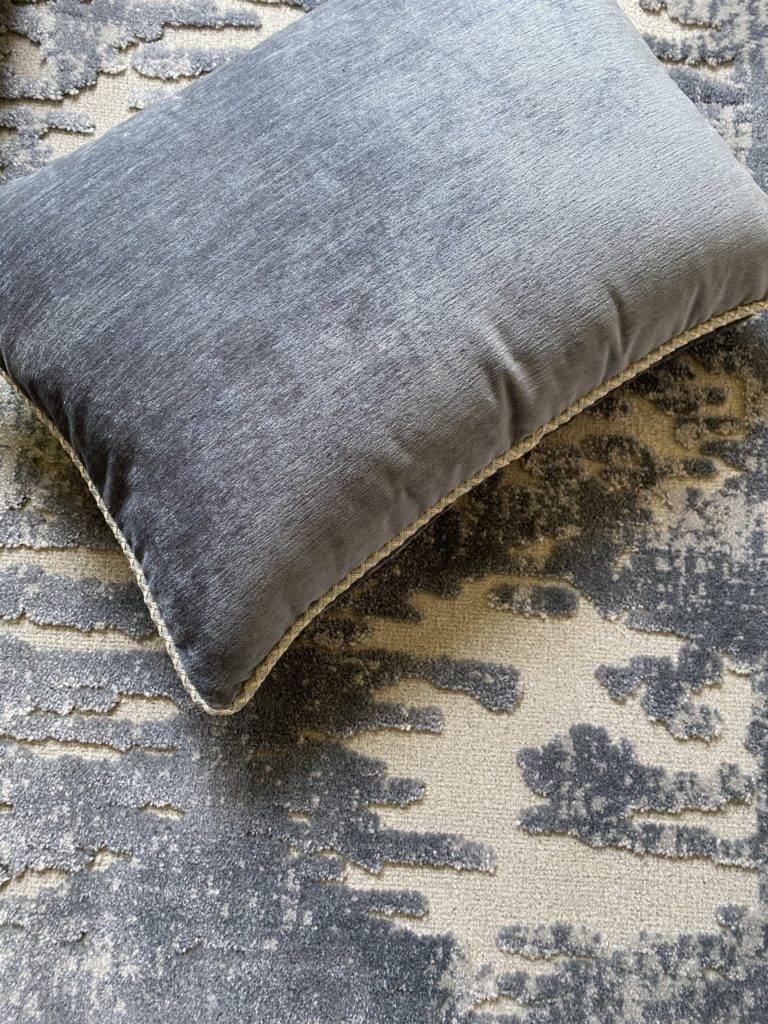 Still to come! The final touches- installing the window treatments and accessories, and then – the room reveal! I can't believe it's so close. Be sure to check out the media sponsor, Better Homes and Gardens as well as all the other amazingly talented other One Room Challenge participants.